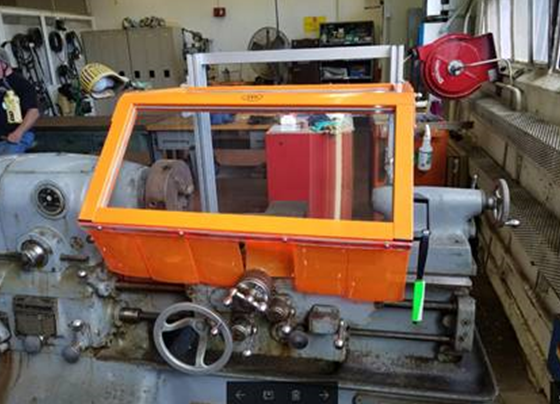 Hinged Lathe Safety Guard - Floor Mount
Lead Time
7-10 business days. This item is built to order based on the size of your machine. Contact us for a quote today!
These are constructed on a custom basis.  Please specify required length of coverage ("Guard Width"). Average lead time on custom hinged lathe guards is 7-10 business days.  These ship assembled on a pallet: LTL Freight. 

Downloads

Please fill in the measurement form when ordering so that we can design your lathe machine guarding system in CAD.
Features
Protects operators from flying chips,

 

coolant, and the rotating chuck.
Works well with small to medium-sized lathe machines.  If you load parts with an overhead hoist, see our sliding guards.
Available with interlock/safety switch
Lathe chip guard constructed from 40mm industrial aluminum extrusion. Posts are 40x80mm extrusion
The aluminum extrusion construction allows adjustment up/ down, and inward/outward upon installation. 
Polycarbonate Lexan front and top panel. 1/4" thick. Replaceable.  We save every customer's Lexan sizes for easy future ordering of replacement panels.
Polycarbonate Lexan panel included on the left side of guard to enclose chuck area. 1/4" thick.
This lathe chip shield has an 8" Orange PVC strip curtain on the bottom (not shown) that provides additional chip containment that still allows access to the compound handle.
Mounts to the floor behind the lathe supported to backsplash or machine. Concrete anchors are supplied.
Dual gas struts assist the opening and keep the guard open during setup
The handle comes installed on the front bar in the center of the guard.
Can be made up to 30" wide. Common sizes: 18", 24", 30,  (24" pictured)
LED Light Option Available. 
Video